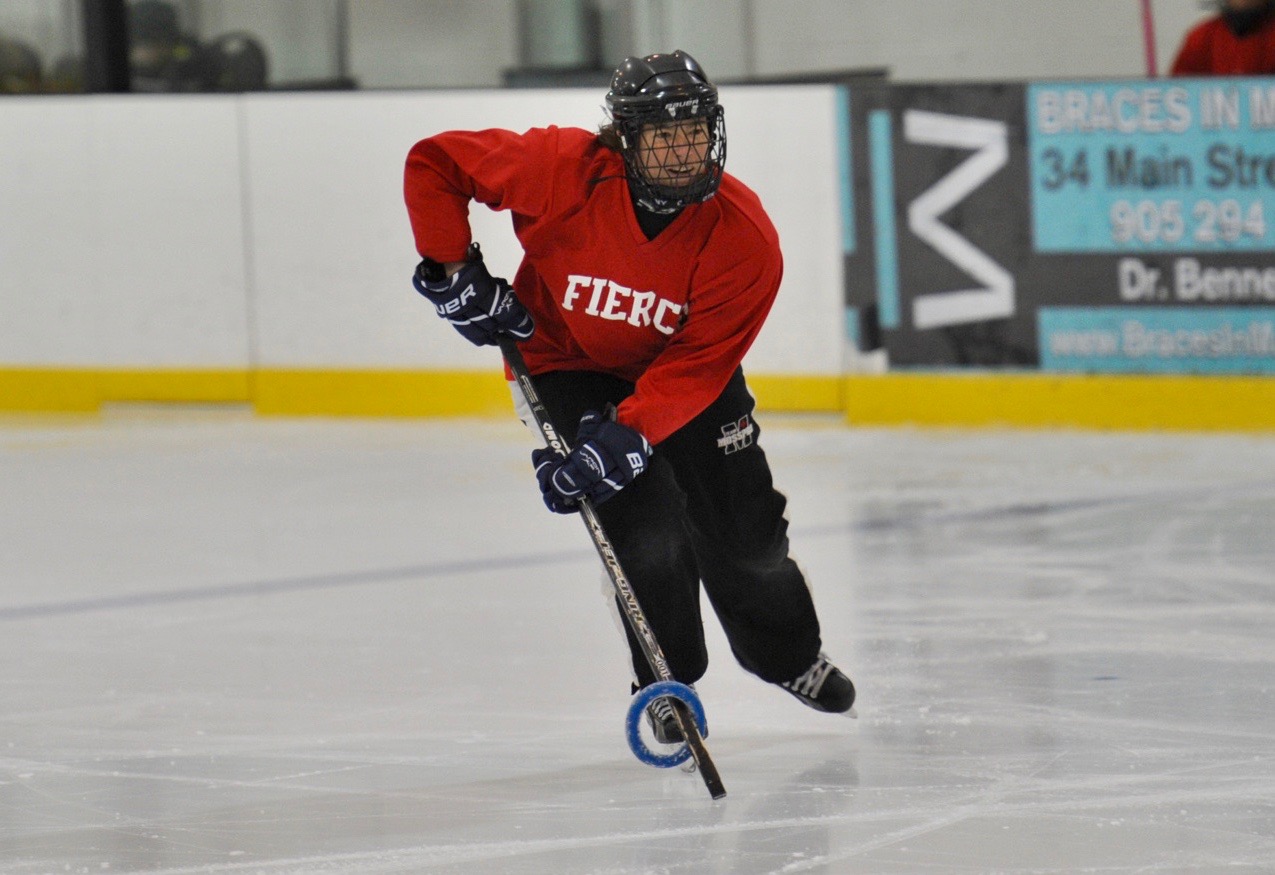 Welcome to Markham Women's Ringette Association. We are busy preparing for next season and there is lots of planning on the go. We hope to see you on the ice, we know you'll have a great time. We are a fun group of women who like to get together for a good skate and some laughs. It is our priority that all our league members have a good time. We play on Friday nights from mid-October to the end of March at Mount Joy Arena.
Interested in joining? Please email inquiries@markhamwomensringette.org and we will get back to you with all the details you need.
Maybe you are feeling a bit nervous because you haven't played for a while – don't worry, we get it. Why not join us for a trial night to see how you feel before you commit?
Last night, we had the inaugural ice time of our 2015-2016 season!
A great group of ladies gathered and had a hard fought battle between Fierce and Fantoms.  Admittedly, the speed of play did slow as the game progressed, we were definitely feeling our summer off (at least I was!).  We had some lovely trainee refs learning the ropes (we didn't give them TOOO hard a time), and when the final whistle was blown, the score stood:
Fantoms 2 – Fierce 4
After the game, Andrea, the president, gathered us together for a quick introduction and chat.
Some people listened more attentively than others!
Next week, the scoreboard is wiped clean, and the battle begins anew!  See you ladies then!
Got my equipment out of storage this afternoon to work off some of the turkey and stuffing. It's looking a bit dusty, but it's all there!
Now I just have to remember whether I got my skates sharpened at the end of the season…  hmmm…
One week from today, we will be lacing up our skates (Mental Note: get skates out of storage), climbing in the car, and making our way to Mount Joy for our first ice time in several months! And so, next week we will be gathering for the first time in a long time, catching up over stinky equipment, and welcoming our newcomers into the fold.  I'm looking forward to finding out what everyone was up to over the summer and working off some turkey and pumpkin pie!
In my case, I'm actually kinda happy that our first ice time isn't tonight, because I think the traffic this Turkey Day Friday is going to be unbelievable.  Kind of tempted to check what the GPS's estimated travel time would be tonight vs next week!  Any bets on how much worse it will be tonight?
Anyone?
See you in a week!
ARE.  YOU.  READY??!
The new season of Friday night MWRA approaches, and I for one am getting excited.
Our first ice time is Friday Oct 16th at 9:30 at Mount Joy Arena.
So start sharpening your skates (not your sticks – *coughJoannecough*), and pull your equipment out of storage!
We would also like to invite anyone who isn't sure about joining the league to come out and try playing for a single night instead of having to commit to the entire season.  For $20, you get an hour of ice time and the company of some great women!  If you need help finding some equipment, we can help with that too – just contact our email inquiries@markhamwomensringette.org
Well, I was going to start this post with a comment about how another ringette season has left us behind in favour of warmer weather and sunshine, but it's currently 1 C outside, and there was hail yesterday.
Not so warm.
Either way, the ice has come out of Mount Joy arena and we are recovering from our bruises (looking at you Joanne).  I, for one, had a fantastic season and am so glad such an enthusiastic and friendly group gets together every Friday night.
I can tell our season is over because I did something truly astonishing this week – I washed my equipment.   You can all expect me to be powder fresh when play starts up again in the fall.
I'll be waiting!