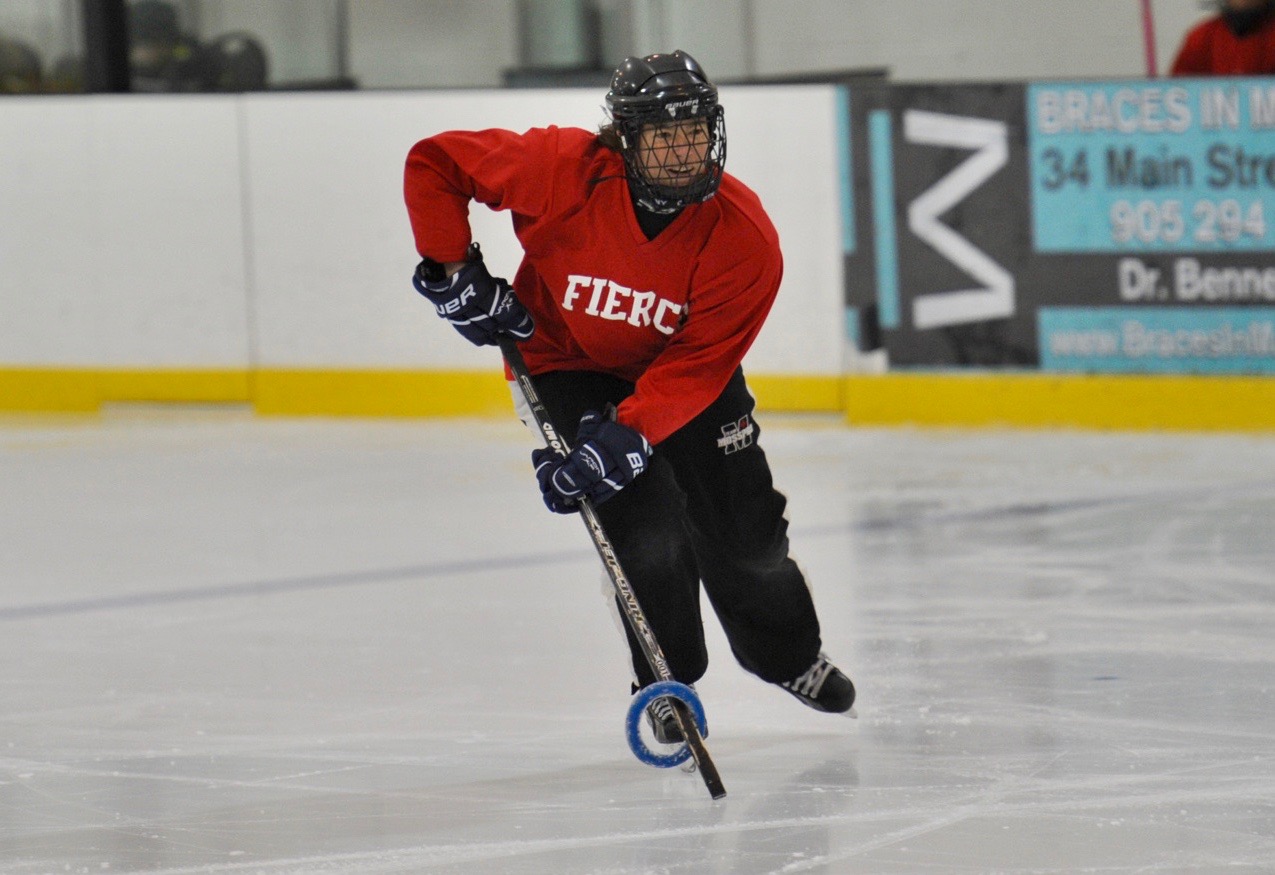 Welcome to Markham Women's Ringette Association. We are busy preparing for next season and there is lots of planning on the go. We hope to see you on the ice, we know you'll have a great time. We are a fun group of women who like to get together for a good skate and some laughs. It is our priority that all our league members have a good time. We play on Friday nights from mid-October to the end of March at Mount Joy Arena.
Interested in joining? Please email inquiries@markhamwomensringette.org and we will get back to you with all the details you need.
Maybe you are feeling a bit nervous because you haven't played for a while – don't worry, we get it. Why not join us for a trial night to see how you feel before you commit?
Last night we had our first Toonie Toss of the Fall 2015 season.
Everybody 'bought' a ring for $2, and then threw from the goal line.
Then there is the careful, deliberate, and very technical measuring to see who got closest to center ice!
Until finally a winner is determined!
Catherine takes home half the pot, which last night equalled about $18!
Saturday was Halloween (for people living under a rock) and so on Friday  night, I took a pair of fairy wings with me to our game!
It was really fun to zoom around the ice in them, and I scored during the first shift!  However, the blocked my peripheral vision, so I ended up taking them off.  However, then other people on the team started wearing them!
Now, these wings obviously made a load of difference, as Fierce beat out Fantom!
Maybe we should wear the wings every night!
Tonight's the night, we find out our teams for the rest of the year!
What will it be?   Fantom or Fierce?
Bring a cheque for a $25 deposit on your sweater and then we can all be responsible for de-stinkifying our own sweaters!  Hmm… on second thought, maybe I'll keep my deposit and keep letting someone else wash my sweater…
As our 'season' starts in earnest tonight, I wanted to get some opinions as to whether most people wanted to keep track of the statistics of our house league!
There are several options that we could consider.
1) Record of win/loss
2) Record of score
3) Inclusion of extra info (i.e. goalies, number of players/team, running time) – not my favourite due to extra work, but am willing if people are keen!
4) No record at all!
Now this might be really fun, or, it might increase the level of competitiveness beyond what people would like at a 'house league' level.
I turn it over to you fellow players, what would you like to see?  (I'll add my opinion below so as not to influence people!)
Last night, we had the inaugural ice time of our 2015-2016 season!
A great group of ladies gathered and had a hard fought battle between Fierce and Fantoms.  Admittedly, the speed of play did slow as the game progressed, we were definitely feeling our summer off (at least I was!).  We had some lovely trainee refs learning the ropes (we didn't give them TOOO hard a time), and when the final whistle was blown, the score stood:
Fantoms 2 – Fierce 4
After the game, Andrea, the president, gathered us together for a quick introduction and chat.
Some people listened more attentively than others!
Next week, the scoreboard is wiped clean, and the battle begins anew!  See you ladies then!
Got my equipment out of storage this afternoon to work off some of the turkey and stuffing. It's looking a bit dusty, but it's all there!
Now I just have to remember whether I got my skates sharpened at the end of the season…  hmmm…