As our 'season' starts in earnest tonight, I wanted to get some opinions as to whether most people wanted to keep track of the statistics of our house league!
There are several options that we could consider.
1) Record of win/loss
2) Record of score
3) Inclusion of extra info (i.e. goalies, number of players/team, running time) – not my favourite due to extra work, but am willing if people are keen!
4) No record at all!
Now this might be really fun, or, it might increase the level of competitiveness beyond what people would like at a 'house league' level.
I turn it over to you fellow players, what would you like to see?  (I'll add my opinion below so as not to influence people!)
Last night, we had the inaugural ice time of our 2015-2016 season!
A great group of ladies gathered and had a hard fought battle between Fierce and Fantoms.  Admittedly, the speed of play did slow as the game progressed, we were definitely feeling our summer off (at least I was!).  We had some lovely trainee refs learning the ropes (we didn't give them TOOO hard a time), and when the final whistle was blown, the score stood:
Fantoms 2 – Fierce 4
After the game, Andrea, the president, gathered us together for a quick introduction and chat.
Some people listened more attentively than others!
Next week, the scoreboard is wiped clean, and the battle begins anew!  See you ladies then!
Got my equipment out of storage this afternoon to work off some of the turkey and stuffing. It's looking a bit dusty, but it's all there!
Now I just have to remember whether I got my skates sharpened at the end of the season…  hmmm…
One week from today, we will be lacing up our skates (Mental Note: get skates out of storage), climbing in the car, and making our way to Mount Joy for our first ice time in several months! And so, next week we will be gathering for the first time in a long time, catching up over stinky equipment, and welcoming our newcomers into the fold.  I'm looking forward to finding out what everyone was up to over the summer and working off some turkey and pumpkin pie!
In my case, I'm actually kinda happy that our first ice time isn't tonight, because I think the traffic this Turkey Day Friday is going to be unbelievable.  Kind of tempted to check what the GPS's estimated travel time would be tonight vs next week!  Any bets on how much worse it will be tonight?
Anyone?
See you in a week!
ARE.  YOU.  READY??!
The new season of Friday night MWRA approaches, and I for one am getting excited.
Our first ice time is Friday Oct 16th at 9:30 at Mount Joy Arena.
So start sharpening your skates (not your sticks – *coughJoannecough*), and pull your equipment out of storage!
We would also like to invite anyone who isn't sure about joining the league to come out and try playing for a single night instead of having to commit to the entire season.  For $20, you get an hour of ice time and the company of some great women!  If you need help finding some equipment, we can help with that too – just contact our email inquiries@markhamwomensringette.org

This year, we had a special award.  There… there is no real way to describe this award, other than to say that the event it commemorates is emblazoned in the memory of all who heard it!  In embodies the challenges confronted by parents as their children grow older, passing into new phases of life.  No matter what phase you're in, sometimes you just want to sit and eat your F'ing Cornflakes!
Joanne Moore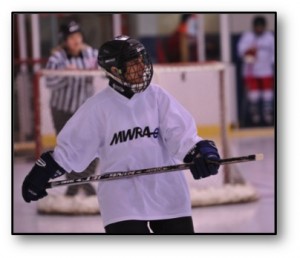 Every year, MWRA sells hockey pools as a fundraiser, and every year, the competition is fierce! This year was no different, and as the regular season has come to a close, we have the results!
1st place:  Mike Jorgenson
2nd place: Joanne Munce
3rd place: Jack Lemieux and Colin Wacket (this is the first time we've ever had a tie!)
And…..
The coveted last place….
Sharilyn Dyck!!
Catherine Sohl was our best seller this year.  Anyone think they can beat her next year?