ARE.  YOU.  READY??!
The new season of Friday night MWRA approaches, and I for one am getting excited.
Our first ice time is Friday Oct 16th at 9:30 at Mount Joy Arena.
So start sharpening your skates (not your sticks – *coughJoannecough*), and pull your equipment out of storage!
We would also like to invite anyone who isn't sure about joining the league to come out and try playing for a single night instead of having to commit to the entire season.  For $20, you get an hour of ice time and the company of some great women!  If you need help finding some equipment, we can help with that too – just contact our email inquiries@markhamwomensringette.org

This year, we had a special award.  There… there is no real way to describe this award, other than to say that the event it commemorates is emblazoned in the memory of all who heard it!  In embodies the challenges confronted by parents as their children grow older, passing into new phases of life.  No matter what phase you're in, sometimes you just want to sit and eat your F'ing Cornflakes!
Joanne Moore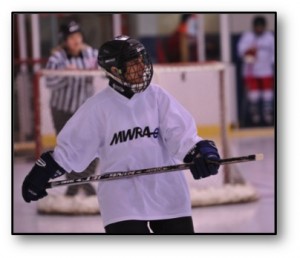 Every year, MWRA sells hockey pools as a fundraiser, and every year, the competition is fierce! This year was no different, and as the regular season has come to a close, we have the results!
1st place:  Mike Jorgenson
2nd place: Joanne Munce
3rd place: Jack Lemieux and Colin Wacket (this is the first time we've ever had a tie!)
And…..
The coveted last place….
Sharilyn Dyck!!
Catherine Sohl was our best seller this year.  Anyone think they can beat her next year?
The first year I played for MWRA, I registered really late. I had only just figured out that there was somewhere for me to play, and so after a couple of emails back and forth, I sent off my cheque and registration form.
$350
Not all that much, but still a pretty big commitment. How happy was I when the next year I realized that it was only $300 if I registered early?
Obviously, I registered early.
If you are planning on playing with us next year (and you should, we are tonnes of fun), then you should send us an email and register before June 1st!
Well, I was going to start this post with a comment about how another ringette season has left us behind in favour of warmer weather and sunshine, but it's currently 1 C outside, and there was hail yesterday.
Not so warm.
Either way, the ice has come out of Mount Joy arena and we are recovering from our bruises (looking at you Joanne).  I, for one, had a fantastic season and am so glad such an enthusiastic and friendly group gets together every Friday night.
I can tell our season is over because I did something truly astonishing this week – I washed my equipment.   You can all expect me to be powder fresh when play starts up again in the fall.
I'll be waiting!